Excuses . . . Excuses . . .
I do my best to publish as least one meaty, technical EPM blog post per month. But that's just not going to happen this month. I have three excuses of varying quality:
Excuse #1:  My current project is in "sprint" mode with some aggressive development timelines.
Excuse #2:  I'm working on my presentation for Top Gun 2015 US.
Excuse #3:  I have a new toy.
I wouldn't normally blog about that last excuse (the toy), but I'm going to try to tie it in with Excuse #2.
On September 17th, I'll be speaking at Infratects' Top Gun US 2015 conference. I'll be presenting on Essbase Hybrid Aggregation Mode, and I'm very excited about the opportunity.

I have two rules for these types of presentations:
Rule #1: Show a live demo of something really interesting.
Rule #2: Have some "giveaways" for people who ask questions.
Because I needed some "giveaways", and because Essbase databases are typically referred to as "cubes", I obviously had to go and buy a MakerGear M2 3D Printer kit and make some 3D printed "Gear Cubes". I had no choice, really . . . so if you attend my presentation and ask an engaging question, you could be the proud new owner of one of these: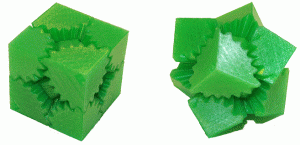 Top Gun US 2015 has some amazing speakers and should be a great opportunity to network with Oracle product management and your EPM peers. I hope to see you there!